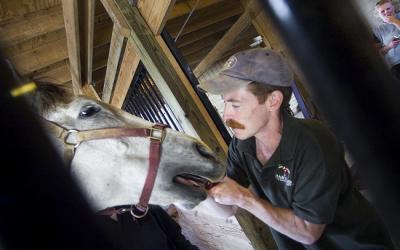 Paul Drake, an equine dental technician, demonstrates Sunday at Muddy Creek Meadows Farm how he uses a file to shape worn teeth on a horse. (Daily Record/Sunday News - Paul Kuehnel)
Hi Paul,
I just wanted to thank you again for doing such a lovely job on our horses and on Sally the mule! Since getting her front teeth corrected along with the regular float, Sally has lost her hay/bloated belly look and is putting on weight very nicely where she needs it. You were wonderfully patient and gentle with all our equines from the mule all the way down to the Shetland (literally).
I hear back from my friend and she feels you did a great job on her Hafflinger mare, Rekka. I am glad you were able to help them out!
I still need to get on Lotti and she how she does. Time, weather and kids' activities keep interfering. If the weather holds enough over the next 2 days, I plan to at least ground drive her to see how she feels about the bit, then next week start riding again.
Again, thank you! If you ever need a reference, I'd be happy to supply one. Also,I'd like to add your Web site to my links page on my beginner lesson barn Web site if that is okay? I get hits locally. You can check out my site below to see if you'd want your Web site listed under my links.
Take care.
Rina Chios

Hi Paul,
You came out and did a bunch of horses for us earlier in the year and I just wanted to say thank you! The horses are all doing well. The two we were most worried about weight wise (a 5-yr old Tb and our 28-yr old mare) put weight on like crazy within the month after you were out. We were especially worried about the old are and were so so happy to see her come back so rapidly. I had a few people ask about you and found that I have misplaced your phone number! I had your email address saved, however. If you could give me your number again that would be awesome! We definitely would like to have you back out next year again, and I want to be able to pass your number along to friends. Anyway, thanks so much again!
Stephanie Waltz

Paul,
I just wanted to write you a little email. Rekka is doing great after her dental exam. Thanks so much. She looks like a different horse. Her bloated belly went down, and at the same time she does not look as ribby. My mother was also pleased with your work and her horse Suzie and both she and I are quick to recommend you to others. Photo 073 is more recent after shot; 017 is a shot before you did her teeth. I don't have more recent photo, as Rekka stepped on my camera last week.
Thanks Again,
Alana Riches

Hi Paul,

Thank you so much for coming out Saturday. It was a pleasure to meet you! I'm very pleased to say YES, YOU FIXED LEXIE! You can tell that she is enjoying every bite of her grain. Ali even has a look of enjoyment now when he is eating his grain also. They were both fine Saturday night. I did give each one 1 Bute tab just in case they might of been a little tender. There is no grain dropping from either one. Lexie dribbled a little Saturday night, but not like she had been and then Sunday morning she had figured out that she could actualy chew again. Heidi is fine also.

I'm so glad that I contacted you for your dental services. I'm going to highlyrecommend you to everyone and I'm going to place your business cards at R&DCross in Upper Marlboro, and Bowens in Annapolis. You were easy to talk withand you explained everything and you definitley think of the horse and theirwell being.

I would like to definitely schedule an appointment with you for Charm and Handywithin the next 2 weeks. I would need a Saturday appointment.

Thank you so much,
Kathy L.